Launch of the Bonn Water Network: connecting competences for sustainable water futures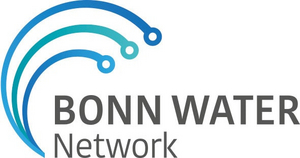 Event Type
Bonn Water Network Event
Location/Date
Online, 17.11.2020
Organiser

German Development Institute / Deutsches Institut für Entwicklungspolitik (DIE)
2.1 billion people have no access to clean drinking water and more than 4.5 billion have no safe sanitation. In many countries, increasing water scarcity threatens food security and energy production or leads to conflict. For the past 15 years, seven Bonn-based organizations have been sharing their insights into solutions towards a more water secure world through their "water lecture" series.
We are going a step further with the launch of the 'Bonn Water Network' in order to coordinate and intensify our endeavours for sustainable water futures. The new initiative allows for strengthening the visibility of the network's multi-disciplinary expertise and international partnerships. It aims at facilitating better exchange of perspectives on global water problems and fostering joint endeavours in identifying and advocating technical and institutional solutions. Bonn Water Network will benefit from and reinforce Bonn's status as a center for international cooperation, sustainable development, and innovation.
The network consists of seven renowned institutions with longstanding experience on water and related issues: the Bonn International Center for Conversion (BICC); Bonn University with its Institute of Geography (GIUB) holding the UNESCO Chair in Human Water Systems, and the Center for Development Research (ZEF); the German Development Institute / Deutsches Institut für Entwicklungspolitik (DIE); the International Water Management Institute (IWMI) and two UN institutions, the United Nations Institute for Environment and Human Security (UNU-EHS) and the Secretariat of the United Nations Convention to Combat Desertification (UNCCD).
The network members deal with water and related problems worldwide and, together with partners in science and practice, contribute to finding sustainable and socially appropriate solutions. For example, we investigate how cross-border cooperation in Africa can help to make better use of water for energy and agriculture, we support policy makers and stakeholders at all levels globally on drought risk mitigation, and our models simulate how and where climate change is affecting water resources in Nepal and India. We also contribute to develop solutions for resolving conflicts over water and to promote sustainable water management in Jordan, Morocco and Mongolia, as well as climate-sensitive adaptation strategies to reduce flood risks in Togo and Benin.
Schedule of the launch event
Introducing the new Bonn Water Network
Welcoming remarks
Stefan Wagner, head of the Department of International Affairs and Global Sustainability at the city of Bonn
Short videos by the Bonn Water Network member institutions
Welcoming remarks
Jakob Rhyner, Scientific Director of the Bonn Alliance for Sustainability Research/ Innovation Campus Bonn (ICB).
Panel discussion and public debate
'The Bonn Water Network: connecting competences for a sustainable water future'.
Members of the network showcase their contributions to finding solutions for water problems
On transboundary water mangement in Togo and Benin, on sustainable water and land management in Subsaharan and Northern Africa, on the implementation of SDG6 in the light of competition for groundwater in Jordan and on climate resilience in Asia.
Moderator
Luna Bharati, IWMI and ZEF, co-spokesperson of the network.
Closing remarks
Hinweis / Please note

Während unserer Veranstaltungen werden z.T. Foto- und/oder Filmaufnahmen gemacht, die für Zwecke der Veranstaltungsberichterstattung und allgemeinen Öffentlichkeitsarbeit in verschiedenen Medien veröffentlicht werden. Sie haben jederzeit das Recht, die Foto- oder Videograf*innen darauf hinzuweisen, dass Sie nicht aufgenommen werden möchten.

During our events photos and/or videos may be taken which may be published in various media for the purposes of documentation and PR activities. You have the right at any time to point out to the photographer or videographer that you do not want to be photographed or filmed.
Date / h
17.11.2020 / 17:30 - 19:00
Location

Online
Speaker of the network
Co-spokesperson